BECAUSE THERE'S NO PLACE

Like Home

When seniors or others need long or short-term assistance with their daily living needs,home is the most comfortable and convenient place to recieve care.

Elder Care And Live-in Service In Florida

At No Place Like HomeCare we tailor the level of care to your specific needs rather than a predetermined schedule. Whether in St. Petersburg, Tampa, or a surrounding area we come to you. At a free In-Home Assessment you will meet with an owner to discuss your loved one's care, and there are no long-term contracts. Through our experience helping seniors stay in their homes, we are well aware of the need to be flexible. As the level of need changes, so will the level of care. Though our visits start as low as a three hour minimum shift, we specialize in around the clock elder care and Live-in service at Pinellas, Pasco & Hillsborough County, FL.
No Place Like HomeCare is the ideal solution for elderly or disabled individuals who want to maintain their independence and dignity by continuing to live in the comfort of their own homes. The Caregivers make elders lives easier by performing many of the tasks which have become difficult and tiring.
Caregivers referred by the Nurse Registry (NR30211353) may provide a wide array of services, including: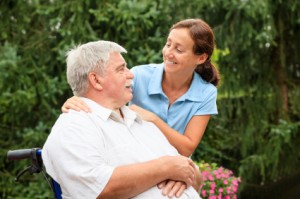 Driving and/or accompanying the client to the physician when necessary

Shopping and performing other household errands

Reminding clients to take their medication

Personal Care

Bathing/Grooming and Dressing

Providing hygiene assistance

Supervising ambulation and helping to prevent falls
Taking care of all personal laundry and bed linens for the client

Preparing and serving meals according to client's dietary needs

Cleaning the bathroom and kitchen after use, including washing dishes after

meals and mopping the floor

Cleaning the client's room, which includes dusting and vacuuming

Assisting with elimination

Providing socialization, friendship and support for the client
No Place Like HomeCare recognizes the fact that certain illnesses and afflictions are more common to seniors. Therefore, most Caregivers have special training on communicating with persons who have Alzheimer's and related Dementia, Hearing Loss and Aphasia, which ensures a higher level of care for senior citizen clients. If nursing or full home health care services become necessary, we can provide your loved one with skilled care up to 24 hours a day / 7 days a week at Seminole, St. Petersburg, Pasco, Pinellas & Hillsborough, Florida.